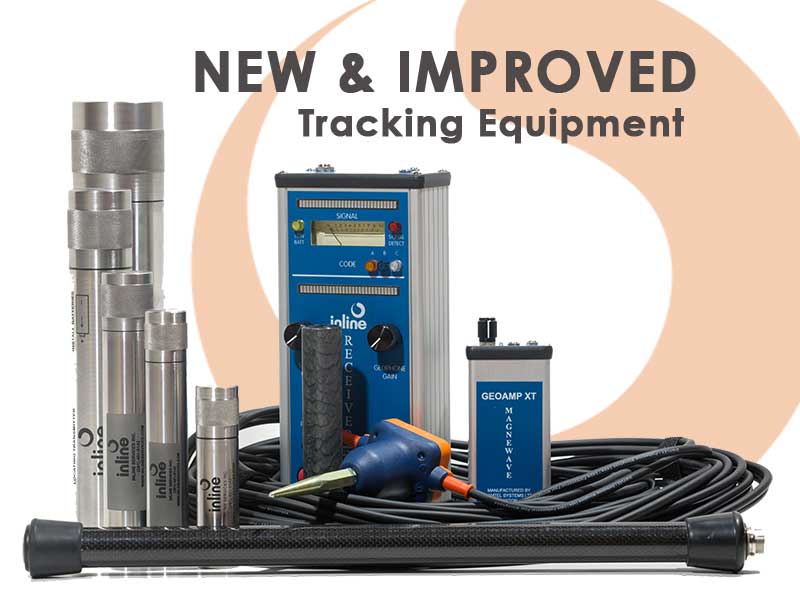 Inline Services complete suite of Electronic Tracking Equipment received some updates recently, thanks to a combination of customer feedback and Inline's ongoing innovation product strategy.
What makes our Electronic Tracking Equipment so special?
Our transmitters are offered in 20 different sizes to cover all types of pipes, pipe bends and duration requirements. Sizes range from 2.5″ long, up to 24″ long.
We can customize any transmitter to suit your needs. They can be setup with pulsing or continuous signal, as well as dual power to save battery life, or dual mode to increase gain.
Everything you need is conveniently packaged in our kit. Kits include a 50′ probe extension cable, an auxiliary cable to access vehicle audio systems, a wand antenna and a pair of noise canceling headphones.
I know what you're thinking: "How can you possibly improve this equipment?!" We did and here's how:
The RX-101 tracking receiver combines a very sensitive, low noise ELF (22Hz) reception of transmitter signals, including coded types (A, B, C), with a highly praised geophone amplifier with probes and cables in one easy-to-carry, easy-to-operate package. All this for less than the price of other receivers without the geophone capability included.
We've updated our receivers to require only C12 batteries, offering improved performance and battery life.
The Geoamp XT acts as a separate geophone amplifier for trackers who want a stand-alone amplifier with outstanding quality. It provides great sensitivity with low noise and elimination of external interference, such as power lines and two way radio noise, etc.
Our antennas have been updated with newly available technology allowing for increased range and decreased outside interference.
Did you know?
Our Electronic Tracking Equipment is available for RENT or PURCHASE.
Have More Questions? Contact Us Today!
Live Chat from our website, Call us at 888.973.0079 or complete the contact form above. One of our knowledgeable staff will be happy to answer any questions or assist you with an order.
Contact Us for More Information!