Features & Benefits:
Weather sealed & explosion proof limit switch
Set to your pipeline's unique pressure and pipe wall ensuring reliable pig passage every time
On-stream installation capability or removal capability
Bi-directional activation
Hemispherical plunger sensitivity adjustment
Hemispherical plunger penetration adjustment
Thread mounting nipple

*The switch employed on this model is NEMA rated, UL listed and CSA certified to suit most applications.
Options Available:
Custom Seals
Aluminum extensions can be attached to enable detection of the pigs passage on buried pipelines. All pressure sealing components remain below the extension module. Available in lengths 2' to 8'.
Flange Mount models are designed to connect to existing flanged connections and are available in ANSI Class 150, 300, 600 or 900/1500 flanges.
*Conversion kits are also available which enable installation onto the mountings of other manufacturers.
Apache pigPRO™ Series 67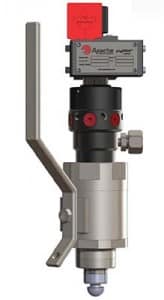 Detects precise pig location during a run
Visual flag indicator with manual reset
Customized ball valve allows for safe isolation of indicator for pipeline pressure inspection, maintenance or repair
Includes a thread mounting nipple, isolation extended lower housing, fluorocarbon O-Rings, and hemisphereical plunger with flag assembly
Apache pigPRO™ Series 57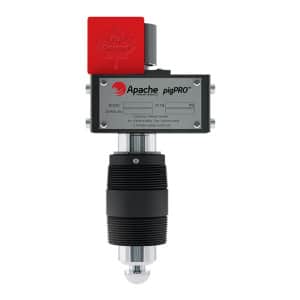 Visual flag indicator with manual reset
Most popular pigPRO model
Includes a thread mounting nipple, standard lower housing with fluorocarbon O-Rings and a hemispherical plunger with a flag assembly
Apache pigPRO™ Series 55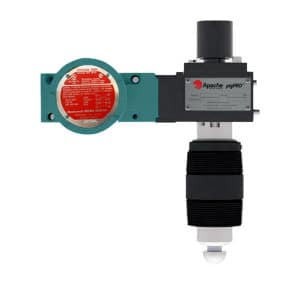 Electrical Indicator with automatic reset
Includes a thread mounting nipple, standard lower housing with fluorocarbon O-Rings, hemispherical plunger and weather sealed & explosion proof limit switch. The switch employed on this model is NEMA rated, UL listed and CSA certified to suit most applications