Inline Services is proud to be the exclusive U.S. distributor of the Apache pigPRO™
The Apache pigPRO series of intrusive pig passage indicators provides accurate and reliable detection of pipeline pigs. Featuring a patented fluid seal design and high quality of Canadian workmanship,  pigPROs™ are depended upon by pipeline operators worldwide.
The pigPRO provides a dependable signal of a pig pass using a visual, electrical or combination signal. Not sure which is best for you and your project?
Features
Rugged, Tough Design for harsh applications
Stainless Steel internal parts saturated with durable corrosion resistant coating
rugged units are constructed of stainless steel internal parts impregnated with a durable corrosion resistant coating.
Bi-directional activation
On-stream installation/removal capability
Plunger sensitivity/penetration adjustments.
Unique patented fluid seal design does not allow paraffin or other objects to obstruct the operational mechanisms
Hemispherical plunger eliminates the need for Operator to align the device
Fluorocarbon "O" rings
Options
Visual and/or Electrical indication
Automatic Reset
Explosion Proof available
Visual Flag/manual reset
Flange Mount – Flange base models are manufactured to mount to existing flanged connections and are available in class 150, 300, 600 or 900 ANSI flanges; Conversion kits are also available which enable installation onto the mountings of other manufacturers
pigPRO™ is a trademark of Apache Pipeline Products and protected by U.S. patent 5263220
Apache pigPRO™ Models:
Apache pigPRO™ Series 67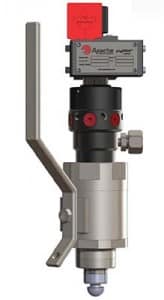 Detects precise pig location during a run
Visual flag indicator with manual reset
Customized ball valve allows for safe isolation of indicator for pipeline pressure inspection, maintenance or repair
Includes a thread mounting nipple, isolation extended lower housing, fluorocarbon O-Rings, and hemisphereical plunger with flag assembly
Apache pigPRO™ Series 57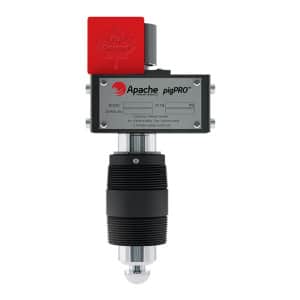 Visual flag indicator with manual reset
Most popular pigPRO model
Includes a thread mounting nipple, standard lower housing with fluorocarbon O-Rings and a hemispherical plunger with a flag assembly
Apache pigPRO™ Series 55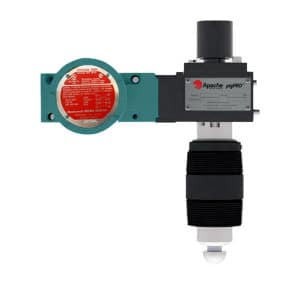 Electrical Indicator with automatic reset
Includes a thread mounting nipple, standard lower housing with fluorocarbon O-Rings, hemispherical plunger and weather sealed & explosion proof limit switch. The switch employed on this model is NEMA rated, UL listed and CSA certified to suit most applications
Apache pigPRO™ Series 53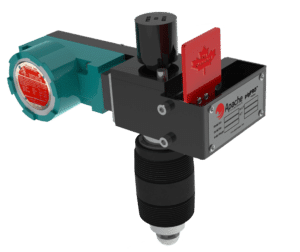 Combined visual/electrical indicator with manual/automatic reset
Includes a thread mounting nipple, standard lower housing with fluorocarbon O-Rings, a hemispherical plunger with a flag assembly, and weather sealed & explosion proof limit switch. The switch employed on this model is NEMA rated, UL listed and CSA certified to suit most applications
pigPRO™ Removal Under Pressure